28 Jun 1914 Archduke Franz Ferdinand, heir to the throne of the Austro-Hungarian Empire, and his wife are assassinated in Sarajevo, Bosnia, setting off a chain of events across Europe that lead to war.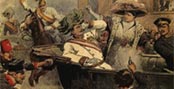 29 Jun 1914 Dundee Courier reports on the assassination of Archduke Franz Ferdinand. Little did the people of Dundee and the rest of Great Britain know how their world was about to change.
29 Jun 1914 Secretary of the Austro-Hungarian Legation at Belgrade sends despatch to Vienna accusing Serbian complicity in the assassination.
20 Jul 1914 Austria-Hungary sends troops to the Serbian frontier.
25 Jul 1914 Serbia orders mobilisation of troops. Russia arranges for troops to be stationed on Russo-Austrian frontier.
28 Jul 1914 A month after the assassination of Archduke Franz Ferdinand and his wife, Austria-Hungary declares war on Serbia.
1 Aug 1914 French military mobilisation ordered; Germany declares war on Russia; and Italy and Belgium announce their neutrality.
3 Aug 1914 Germany declares war on France and Great Britain orders for troops to mobilise.
4 Aug 1914 Germany invades neutral Belgium and Great Britain declares war and the United States declares its neutrality.
6 Aug 1914 Royal Navy cruiser HMS Amphion is sunk by German mines in the North Sea resulting in the death of 150 men – the first British casualties of war.
7 Aug 1914 The first contingent of the British Expeditionary Force (BEF) land in France.
11 Aug 1914 Kitchener calls for the first 100,000 men to enlist in his New Army with the publication of 'Your King and Country Need You' poster (that number is made good within two weeks).
13 Aug 1914 The first squadrons of the Royal Flying Corps arrive in France and claim their first 'kill' on August 25.
20 Aug 1914 Brussels is evacuated as Germans occupy the city.  By invading neutral Belgium, Germany hoped to capture Paris quickly by catching the French off guard.
23 – 26 August 1914 The Battle of Le Cateau starts where the British Expeditionary Force suffers 7,812 casualties and is forced to retreat but they delay German advance at Le Cateau and Mons.
28 Aug 1914 The Battle of Helogoland is the first naval action of the war when the Royal Navy sinks three German battle cruisers.
5 – 12 September 1914 The First Battle of Marne checks the German advance at an estimated cost of 13,000 British, 250,000 French and 250,000 German casualties. In total over two million men fought in the battle.
10 – 13 September 1914 Battle of the Masurian Lakes where German forces win a second victory of the Russians forcing them into a retreat.
14 – 28 September 1914 The Battle of Aisne where the allies fail to break German lines and both sides reinforce their defences in what becomes known as the 'race to the sea' – it is also the start of trench warfare and the development of some 400 miles of continuous trench systems.
16 Oct 1914 The British Indian Expeditionary Force D, tFhe largest Indian Army force of the war to serve abroad,  sails from Bombay to the Persian Gulf in preparation for the defence of Mesopotamia.
16 October – 11 November 1914 The First Battle of Ypres when German forces attempt to take the Belgian city but the allies hold out – inflicting 135,000 causalities and the British Expeditionary Force suffer significant causalities.
29 Oct 1914 Turkey enters the war as a German ally bringing some 600,000 troops into the war.
1 Nov 1914 Battle of Coronel. Outsized, out-manoeuvred and outgunned, German cruisers destroy a small British squadron off the coast of Chile. Commanded by Rear-Admiral Sir Christopher Cradock, his orders were to fight to the end, despite him knowing the odds were heavily against him.
22 – 23 November 1914 Trenches are established along the entire Western Front and the British enter Basra in the Middle East (to secure oil supplies mainly for the Royal Navy) and is formally occupied on 23 November.
23 Nov 1914 The Portuguese Government announce prospective co-operation of Portugal with Great Britain.
8 Dec 1914 Battle of the Falklands where Admiral von Spee's squadron is destroyed and the 'Scharnhorst', 'Gneisenau', 'Leipzig' and 'Nürnberg' are sunk. Admiral von Spee is killed and only the SMS Dresden escapes.
16 Dec 1914 The German First High Sea fleet bombards Hartlepool, Whitby and Scarborough, killing 137 civilians – proving that the British mainland is susceptible to attack.
18 Dec 1914 As a result of the declaration of war with the Ottoman Empire, of which Egypt was nominally a part, Britain declared a Protectorate over Egypt.
21 Dec 1914 First German air raid on England where aeroplane drops bombs in sea near Dover – and Jasin (East Africa) occupied by British forces.
24 Dec 1914 Second air raid on England and first bomb dropped on English soil (near Dover).
25 Dec 1914 Aircraft of the Royal Naval Air Service, carried to within striking distance by seaplane tenders of the Royal Navy, bombed the Cuxhaven area causing damage to shore installations.
25 Dec 1914 'Christmas Truce' observed on certain sectors of the Western Front – in some areas the unofficial truce was maintained for days. German and British soldiers crossed trenches to exchange seasonal greetings, food and souvenirs. Some meetings ended in carol-singing and elsewhere men even played games of football.
29 Dec 1914 Memorandum sent to United States Government by British Government in defence of British blockade policy. (US commercial interests wishing to profit from wartime trade with both sides were suffering because of the blockade).
30 Dec 1914 Russian Commander-in-Chief (Grand Duke Nicholas) suggests a British expedition against the Turks to ease Russian situation in the Caucasus.
28 Jun 1914
Archduke Franz Ferdinand assassinated
29 Jun 1914
Dundee Courier reports assassination
29 Jun 1914
Austria-Hungary implicates Serbia
20 Jul 1914
Austria-Hungary sends troops
25 Jul 1914
Serbia and Russia mobilise troops
28 Jul 1914
Austria-Hungary declares war on Serbia
1 Aug 1914
Nations show their intentions
3 Aug 1914
Britain prepares for war
4 Aug 1914
Germany escalates war
6 Aug 1914
First British deaths
7 Aug 1914
British forces land in France
11 Aug 1914
100,000 men called to enlist
13 Aug 1914
Royal Flying Corps arrive
20 Aug 1914
Brussels evacuated
23-26 Aug 1914
The Battle of Le Cateau starts
28 Aug 1914
First naval action
5-12 Sep 1914
Over 500,000 casualties
10-13 Sep 1914
German forces push back Russians
14-28 Sep 1914
The start of trench warfare
16 Oct 1914
Forces sail to Persian Gulf
16 Oct-11 Nov 1914
First Battle of Ypres
29 Oct 1914
Turkey enters the war
1 Nov 1914
Battle of Coronel
22-23 Nov 1914
British enter Basra
23 Nov 1914
Portugal's neutrality under pressure
8 Dec 1914
Admiral von Spee killed
16 Dec 1914
British mainland attacked
18 Dec 1914
Protectorate over Egypt
21 Dec 1914
Air raid on England
24 Dec 1914
Bomb dropped on England
25 Dec 1914
Seaplane raid on Cuxhaven. 
25 Dec 1914
Christmas Truce
29 Dec 1914
British defend blockade policy
30 Dec 1914
Grand Duke Nicholas seeks assistance
19 Jan 1915 In the first airborne attack on British soil, Zeppelins bomb Great Yarmouth and King's Lynn, killing five civilians.
18 Feb 1915 Blockade of Britain by German U-boats begins. All vessels are considered viable targets, including those from neutral countries.
19 Feb 1915 Start of the Royal Navy long-range bombardment of Ottoman artillery around Dardanelles and Gallipoli begins.
10 Mar 1915 The British Offensive at Neuve Chapelle begins. Allied losses amount to 12,800 in two days. Poor quality and shortage of British shells partly to blame, initiating the 'Shell Crisis'.
22 – 22 April 1915 Second Battle of Ypres begins. Germany 'successfully' uses poison gas for the first time. Delivered accurately, a poison gas attack was capable of killing thousands on men in a matter of minutes as well as causing horrific injuries and panic.
25 Apr 1915 Allied landing at Gallipoli begins and fighting continues to January 1916 and would lead to casualties in the region of 500,000 on all sides. Picture: Australian Engineers heading to Gallipoli.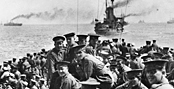 26 Apr 1915 Italy joins the war on the allies side. This is a big event for the Italian community in Dundee and elsewhere in Scotland
7 May 1915 A German U-boat torpedoes the British liner Lusitania with the loss of American lives. A diplomatic crisis between the US and Germany ensues.
9 – 10 May 1915 The Battle of Aubers Ridge was a British offensive on the Western Front in support to the Second Battle of Artois, a Franco-British offensive intended to exploit the German diversion of troops to the Eastern Front.
9 May 1915 First of Kitchener's New Armies leave for overseas service 9th May – 9th (Scottish) Division.  The initial call for 100,000 volunteers was far exceeded when almost half a million men enlisted in just two months
15 – 25 May 1915 The Battle of Festubert was the continuation of the Battle of Aubers Ridge (9 May) and part of the larger French Second Battle of Artois. It was intended to assist the French offensive against Vimy Ridge near Arras, by attracting German divisions to the British front, rather than reinforcing the defenders opposite the French.
25 May 1915 The 'Shell Crisis' emerged in 1915 because the sustained use of artillery was not anticipated causing a shortage of shells. The shortage was widely publicised leading to Lloyd George being appointed as Minister of Munitions. This in turn led to more women going into munitions work.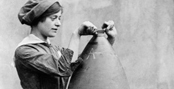 15 Jul 1915 National Registration Act introduced in Britain, obliging all men of military age to register but also anyone between age 16 and 60, including women.
6 Aug 1915 Second landing at Gallipoli ending in failure when the allies are pinned to the coast by Turkish troops.
16 Aug 1915 Britain's maritime defences are breached when a U-boat bombards Whitehaven on the north west English coast.
25 September – 15 October 1915 The Battle of Loos begins and includes thirty-six Scottish battalions and 30,000 Scots going 'over the top' on the first day. It was the largest land battle in British military history and ended with over 60,000 British casualties. The 25th was a dark day Dundee's Own; of the 20 officers and 420 men that took part in the attack, 19 officers and 230 men were killed or injured.  Read more about The Battle of Loos…
5 Oct 1915 British and French forces land at Salonika in support of Serbia to strengthen Bulgarian front – and as a result Bulgaria later declare war on Serbia and join Central Powers.
12 Oct 1915 Edith Cavell, a British nurse, is executed by German firing squad for espionage for aiding escaped POWs escape from Belgium to Holland.
9 Nov 1915 While en route from Salonica to Marseilles, the SS Californian was torpedoed and sunk off the coast of Greece by a German U-boat. Californian was built in Dundee by Caledon Shipbuilding & Engineering Company. Launched in 1901, she was at the time the largest ship ever built in Dundee. SS Californian is more often remembered in relation to the Titanic disaster in 1912 and the Californian's alleged failure to conclusively investigate the signs that Titanic may have been in distress.
15 Dec 1915 General Sir Douglas Haig replaces Sir John French as Commander in Chief of the British Expeditionary Force in France and Belgium.
20 Dec 1915 Allies evacuate 83,000 troops from Suvla Bay and ANZAC Cove in Gallipoli. Not one soldier or sailor is killed in the withdrawal. Dundee men among those evacuated.
19 Jan 1915
Zeppelin attack Britain
18 Feb 1915
Blockade of Britain begins
19 Feb 1915
Royal Navy shelling of Gallipoli
10 Mar 1915
Neuve Chapelle and the 'Shell Crisis'
22-22 Apr 1915
First use of poison gas
25 Apr 1915
Allied landing at Gallipoli
26 Apr 1915
Italy joins the war
7 May 1915
American lives lost
9-10 May 1915
Battle of Aubers Ridge
9 May 1915
Kitchener's New Armies
15-25 May 1915
Battle of Festubert
25 May 1915
Munitions work for women
15 Jul 1915
National Registration Act
6 Aug 1915
Failure at Gallipoli
16 Aug 1915
U-boat bombards Whitehaven
25 Sep-15 Oct 1915
The Battle of Loos
5 Oct 1915
British and French land at Salonica
12 Oct 1915
British nurse executed
9 Nov 1915
Dundee built ship torpedoed
27 Nov 1915
No-Conscription Fellowship
15 Dec 1915
General Sir Douglas Haig
20 Dec 1915
83,000 troops leave Gallipoli
9 Jan 1916 The Gallipoli campaign is abandoned as the last troops leave; leaving historians today divided in their summary of the campaign's success or otherwise. Records differ but the campaign resulted in approximately half a million casualties, including men sick with typhoid, dysentery and diarrhoea. Gallipoli is commemorated on 25 April each year in New Zealand and Australia and is known as "Anzac Day".
24 Jan 1916 First Military Service Act passed by parliament – all single men between 18 and 41 eligible for conscription into the army.
10 Feb 1916 Conscription begins as Military Service Act comes into effect in Britain. Within a few months conscription is expanded to include married men and later the upper age limit for conscription is raised to 51.
21 February – 18 December 1916 The Battle of Verdun was fought on the Western Front between German and French armies. Lasting 303 days, the battle was one of the most costly in human history with an estimated 755,000 – 976,000 casualties. Much of the 100 sq.km battlefield is now forest but the picture (right) still bears the marks of shell impacts. Troops on both sides considered Verdun "Hell".
1 Mar 1916 Germany recommences submarine attacks against merchant and passenger vessels – continues through to April.
2 Mar 1916 Although neutral Portugal has trade interests with Britain and so complies with the British request to confiscate German ships interned in Portuguese ports. Germany reacts by declaring war on Portugal.
29 Apr 1916 Siege of Kut ends – Anglo-Indian garrison surrender to Turkish forces after 143-days. Around 13,000 Allied soldiers survived to be made prisoners. 70% of the British and 50% of the Indian troops died of disease or at the hands of their Ottoman guards during captivity.
16 May 1916 Second Military Service Act passed extending conscription to married men between the ages of 18 and 41. Conscription was not made law in Ireland because of the 1916 Easter Rising, although in fact many Irishmen volunteered to fight.
21 May 1916 Daylight Saving (British Summer Time) introduced for first time to encourage longer working in farms and factories. Germany and Austria-Hungary had already introduced daylight saving as a means of saving coal.
31 May 1916 Battle of Jutland – British Grand Fleet confront German High Seas Fleet in North Sea off coast of Denmark. British fleet sustain greater losses than German fleet but German fleet driven back to port where they remain for the rest of the war.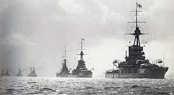 5 Jun 1916 British Secretary of State for War, Field Marshall Lord Kitchener, drowned when en route to Russia when HMS Hampshire strikes mine and sinks off Orkney Isles.
7 Jun 1916 Fort Vaux at Verdun captured by Germans. The defence of Fort Vaux was marked by 5 days of heroism and endurance of the French garrison where most of the fighting took place inside the Fort. The surviving soldiers remained in captivity in Germany until the Armistice of November 11, 1918.
1 July – 18 November 1916 Battle of the Somme launched in Picardy as part of major Anglo-French offensive. The British Army suffers 57,470 casualties, including 19,240 killed. The battle continues until 18 November.
7 Jul 1916 David Lloyd George appointed Secretary of State for War replacing Lord Kitchener.
11 Jul 1916 Germans suspend their attack on Verdun (three miles from city) in order to move troops to the Somme. where the Anglo-French relief offensive began on 1 July. A German attempt to capture Fort Souville in early July, was repulsed by artillery and small-arms fire.
14 Jul 1916 The Somme – Battle of Bazentin ridge. A successful dawn attack sees the capture of villages Bazentine and Longueval by British forces. However the British failed to make the most of their victory and 2 months of bloody attrition commenced.
19 Jul 1916 Battle of Fromelles – French Flanders – Inexperienced  and outnumbered 2:1, Australian and British troops suffer heavy casualties.  The battle was responsible for one of the greatest losses of Australian lives in 24 hours.
21 Aug 1916 The Battle of the Somme documentary released for screening in 34 cinemas with nation-wide release the following week. It showed actual footage of men fighting in the battle and is watched by over 20 million people across Britain.
27 Aug 1916 Romania enters the war on allied side with the aim to seize Transylvania from the Austro-Hungarian Empire. They are quickly defeated by Central Powers combined forces.
28 Aug 1916 Italy declares war on Germany.
3 Sep 1916 First German airship shot down to the north of London. 16 German airships set out to bomb the capital but only 2 came close to their target. At around 2:15 am pilot Lt. William Leefe Robinson (right) shot down one of the airships near Cuffley. The pieces of the airship were salvaged by the Red Cross to raise money for wounded soldiers.
15 Sep 1916 The Somme – Battle of Flers – Courcelette. Allied advance supported by tanks for the first time. It also marked the debut of the Canadian and New Zealand Divisions on the Somme battlefield.
26 Sep 1916 The Somme – village of Thiepval captured by allies. Today Thiepval is the site of a memorial to 72,194 men died in the Somme battle sector before 20th March 1918 and have no known grave.
2 Nov 1916 Verdun – Fort Vaux is recaptured without resistance by a French patrol who find the fort abandoned. In the preceding weeks the fort had been used as a command post by the Germans but life inside probably became unbearable with repeated attacks and heavy shelling by the French.
7 Nov 1916 Woodrow Wilson re-elected as President of the United States. Having kept America out of the war during his first term, Wilson's second term was dominated by American entry into World War I.
13 – 19 November 1916 The Somme – Battle of Ancre, where the final action on the Somme results in allied forces liberating Serbian town of Monastir and brings to an end 142 days of fighting.
7 Dec 1916 Herbert Asquith replaced as British prime minister by David Lloyd George (right) who takes over as leader of the wartime coalition. Regarded as a successful peacetime leader Asquith was generally criticised for his poor leadership during the war.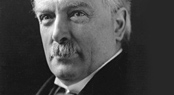 12 Dec 1916 German Chancellor, Theobald Bethmann-Hollweg, sends peace note to Allies to open talks in neutral country.
19 Dec 1916 The Battle of Verdun ends after 303 days of fighting and as many as 976,000 French and German casualties. A French lieutenant at Verdun wrote in his diary, "Humanity is mad. It must be mad to do what it is doing. What a massacre! What scenes of horror and carnage! I cannot find words to translate my impressions. Hell cannot be so terrible. Men are mad!"
21 Dec 1916 David Lloyd George rejects German peace note and the offer of talks on the grounds that Germany believes itself to be the more powerful and therefor in the stronger position to direct the conditions for peace.
9 Jan 1916
Last troops leave Gallipoli
24 Jan 1916
First Military Service Act
10 Feb 1916
Conscription begins
21 Feb-18 Dec 1916
The Battle of Verdun
1 Mar 1916
German submarine attacks
2 Mar 1916
Germany declares war on Portugal
29 Apr 1916
Siege of Kut ends
16 May 1916
Second Military Service Act
21 May 1916
Daylight Saving introduced
31 May 1916
Battle of Jutland
5 Jun 1916
Lord Kitchener drowned
7 Jun 1916
Germans capture Fort Vaux
1 Jul-18 Nov 1916
Battle of the Somme
7 Jul 1916
New Secretary of State
11 Jul 1916
Germans suspend attack on Verdun
14 Jul 1916
Battle of Bazentin ridge
19 Jul 1916
Battle of Fromelles
21 Aug 1916
Somme documentary released
27 Aug 1916
Romania enters the war
28 Aug 1916
Italy declares war on Germany
3 Sep 1916
First German airship shot down
15 Sep 1916
Tanks support advance
26 Sep 1916
Thiepval captured by allies
2 Nov 1916
Fort Vaux recaptured by French
7 Nov 1916
Woodrow Wilson re-elected
13-19 Nov 1916
The Somme – Battle of Ancre
7 Dec 1916
David Lloyd George - prime minister
12 Dec 1916
Germany sends peace note
19 Dec 1916
Battle of Verdun ends
21 Dec 1916
German peace note rejected
19 Jan 1917 A secret telegram to German minister in Mexico from German Foreign Secretary, Arthur Zimmerman,  is intercepted by British Naval Intelligence.  The telegram offers support if Mexico were to attack the USA.
1 Feb 1917 British naval blockade causing food shortages, and starvation in Germany and Austria-Hungary. The average daily diet of 1,000 calories was insufficient to maintain a good standard of health, resulting by 1917 in widespread disorders caused by malnutrition such as scurvy, tuberculosis, and dysentery.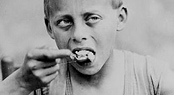 2 Feb 1917 German submarine attacks on British shipping carrying food supplies to Britain leads to food shortages. A public campaign with a clear message is launched to encourage people to eat less bread.
3 Feb 1917 USA break off diplomatic relations with Germany due to the reintroduction of the German navy's policy of unlimited submarine warfare. Germany resume submarine campaign as a result and US President Woodrow Wilson cautioned what might happen if Germany followed through on its threat to sink American ships without warning.
25 Feb 1917 German forces facing the Somme withdraw some 25 miles to new defences known to the British as Hindenburg Line – the withdrawal continues until 5 April.
1 Mar 1917 The Zimmerman telegram is made public in America with express approval of President Wilson. The German Empire proposed financial support and a military alliance with Mexico, in the event of the United States entering the war against Germany. Germany's intention was to keep America neutral but public opinion was turning to war.
12 Mar 1917 Start of first Revolution in Russia. Tsar Nicholas II abdicates and Provisional Government assumes power.
28 Mar 1917 WAAC (Women's Army Auxiliary Corps) enrols 57,000 women – 9,000 WAACs to be sent to France. The WAAC was organised into four units: cookery, mechanical, clerical and miscellaneous but there were strict rules governing the use of women, such as, any job given to a member of WAAC, had to result in a man being released for frontline duties.
3 Apr 1917 Lenin arrives back in Russia.
6 Apr 1917 USA declares war on Germany. Wilson cited Germany's violation of its pledge to suspend unrestricted submarine warfare in the North Atlantic and the Mediterranean, as well as its attempts to entice Mexico into an alliance against the United States, as his reasons for declaring war.
9 April – 4 May 1917 Battle of Arras – British advance 3.5 miles on first day and Canadians seize Vimy Ridge. Fighting continues until 4 May – both sides sustain very heavy casualties.
16 Apr 1917 Second Battle of Aisne –  The operation had been planned as a decisive blow to the Germans but by 20 April it was clear that this had not been achieved and after heavy casualties fighting ends on 20 April.
29 Apr 1917 Outbreak of mutinies take place after the defeat and the heavy casualties sustained by the French at Chalons-sur-Marne – indiscipline continues until October. 40-60 captured mutineers are executed but reforms to improve the welfare of French troops are introduced to help restore morale.
10 May 1917 Convoy system (merchant ships under naval protection) introduced by British to combat German submarine threat. Previously opposed to the idea, the Admiralty agreed to it after 874,140 tons of shipping were lost to U-boats in April 1917. The convoy system quickly reduced losses in convoy to 10% of those suffered by independent ships.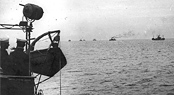 18 May 1917 US Congress pass bill to recruit 500,00 men into war service. This was necessary as only 73,000 volunteers enlisted out of the initial 1 million target.
21 May 1917 Imperial War Graves Commission established in London (Now Commonwealth War Graves Commission).
25 May 1917 First daylight aeroplane raid on Britain by German bombers. Cloud over London diverted 21 bombers to  secondary targets of Folkestone and the nearby Army camp at Shorncliffe. The raid resulted in 113 dead and 285 injured.
7 – 14 June 1917 Battle of Messines begins when allied troops seize the Messines Ridge south of Ypres – fighting continues until 14 June.
13 Jun 1917 Daylight raid by 18 German bombers on London – 157 killed, 432 injured; including 16 children killed by a bomb falling on a primary school in Poplar. This was the deadliest air raid of the war and some years later in 1938, it was described by Air Commodore Lionel Charlton as "the beginning of a new epoch in the history of warfare."
17 Jun 1917 Portuguese troops see action on the Western Front for first time.
28 Jun 1917 Just a few months after declaring war on Germany the first American troops arrive in France. By the end of the war the US had mobilised over 4,000,000 military personnel.
29 Jun 1917 Russian summer offensive against Germany begins. Directed by war minister Kerensky Russia suffers a series of defeats – fighting continues until 18 July.
6 Jul 1917 Conscription Bill passed by Canadian parliament. Despite many Canadians volunteering to join the forces earlier in the war, enlistment virtually stopped when people heard of the trench conditions and number of casualties. Conscription was necessary to deliver the promised 500,000 by the end of 1917.
7 Jul 1917 Daylight bombing by 22 German Gothas over London kills 57 people and leaves 193 injured. One hundred sorties were flown against the formation, resulting in one Gotha shot down and three damaged.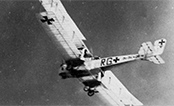 17 Jul 1917 British Royal Family change name from Saxe-Coburg-Gotha to Windsor. Anti-German feeling was at a high and so under pressure from all round the Royal Family chose to permanently separate themselves from Germany by dropping all German titles and dignities.
31 July – 10 November 1917 Third battle of Ypres begins. Better known as Passchendaele, the fighting continues until 10 November. Both sides experience heavy losses. In his Memoirs of 1938, Lloyd George wrote, "Passchendaele was indeed one of the greatest disasters of the war … No soldier of any intelligence now defends this senseless campaign …"
1 Aug 1917 Heavy rain across Ypres battle field for nearly one month – prevents any progress. Pope Benedict XV makes another appeal for peace but is largely ignored, only Austria-Hungary are interested.
3 Aug 1917 Mutiny in the German High Seas Fleet at Wilhelmshaven when around 400 sailors left their ships and began to protest for an end to the war. Army officials persuaded them back to their ships where 75 of them were arrested and imprisoned. The ringleaders were subsequently tried, convicted and executed.
6 Aug 1917 Previously minister of war and of the navy, Alexander Karensky becomes Prime Minister of Russia.
20 Aug 1917 French launch fresh attack at Verdun – recapturing most of the ground lost during 1916.
4 Sep 1917 Germany had switched to night raids as a measure of protection against the improved air defences over Britain. The first night raid by the Gothas took place on 3 September over Chatham killing 152 including 130 naval recruits whose dormitory received a direct hit. Encouraged by the lack of night defence, a raid on London was carried out the following night.
20 Sep 1917 Battle of the Menin Road – British and ANZAC troops at Passchendaele begin stead advance after rains of a month finally stop but the ground conditions are wet and muddy.
19 Oct 1917 Last of the German bomber raids on London takes place.
26 Oct 1917 Second Battle of Passchendaele – British and Canadian troops begin final attack on the village.
2 Nov 1917 Balfour Declaration issued by British Government in support of a Jewish homeland in Palestine.
7 Nov 1917 Second Russian Revolution. Bolsheviks led by Lenin and Trotsky seize power and overthrow provision Government.
10 Nov 1917 Third Battle of Ypres ends with the capture of Passchendaele village.
16 Nov 1917 Georges Clemenceau becomes Prime Minister and Minister for War in France. A fierce of critic of previous leaders handling of the war, Clemenceau faces a challenge to build morale and to convince his people that victory is the only choice for France.
20 Nov 1917 Battle of Cambrai – combined use of tanks, aircraft and artillery – major advance made on the Hindenburg Line. Some 476 tanks took part in the battle of which 179 were lost. The use of tanks meant that lines of barbed wire defences, previously a major hinderance to soldiers, did little to slow the tanks.
30 Nov 1917 Cambrai – Germans launch major counter-attack recapturing almost all the ground lost of the previous ten days. The German counter-attack confirmed the effectiveness of artillery, trench mortars, and evolving stormtrooper tactics.
9 Dec 1917 Jerusalem taken by British forces in Palestine – ends 673 years of rule by Turkey.
15 Dec 1917 Bolshevik Government sign armistice with Germany – suspends hostilities on the Eastern Front and on December 22, peace negotiations begin at Brest-Litovsk.
19 Jan 1917
Secret German telegram intercepted
1 Feb 1917
Blockades - starvation in Germany
2 Feb 1917
Brits urged to eat less bread
3 Feb 1917
USA breaks relations with Germany
25 Feb 1917
German forces withdraw
1 Mar 1917
American people see secret telegram
12 Mar 1917
1st Revolution in Russia
28 Mar 1917
57,000 women enrol
3 Apr 1917
Lenin arrives back in Russia
6 Apr 1917
USA declares war on Germany
9 Apr-4 May 1917
Battle of Arras
16 Apr 1917
Second Battle of Aisne
29 Apr 1917
Outbreak of French mutinies
10 May 1917
British convoy system introduced
18 May 1917
US to recruit 500,00 men
21 May 1917
Imperial War Graves Commission
25 May 1917
Daylight bomber raid on Britain
7-14 Jun 1917
Battle of Messines begins
13 Jun 1917
18 German bomber raid on London
17 Jun 1917
Portuguese troops first action
28 Jun 1917
American troops arrive in France
29 Jun 1917
Russian summer offensive
6 Jul 1917
Conscription Bill passed in Canada
7 Jul 1917
57 die and 193 injured in London raid
17 Jul 1917
Royals switch name to Windsor
31 Jul-10 Nov 1917
Passchendaele
1 Aug 1917
Pope appeals for peace
3 Aug 1917
German sailors mutiny
6 Aug 1917
Alexander Karensky
20 Aug 1917
Fresh French attack on Verdun
4 Sep 1917
First night raids over London
20 Sep 1917
Battle of the Menin Road
19 Oct 1917
Last German bomber raids
26 Oct 1917
Second Battle of Passchendaele
2 Nov 1917
Balfour Declaration
7 Nov 1917
Second Russian Revolution
10 Nov 1917
Third Battle of Ypres ends
16 Nov 1917
Georges Clemenceau
20 Nov 1917
Battle of Cambria - 476 tanks
30 Nov 1917
Cambrai – German counter-attack
9 Dec 1917
Jerusalem falls to British forces
15 Dec 1917
Bolshevik Govt sign armistice
8 Jan 1918 American President, Woodrow Wilson presents his '14 points' plan to prepare ground for peace which although very different to the eventual Treaty of Versailles, was the basis for the terms of the German surrender at the end of the War.
6 Feb 1918 Representation of the People Act received Royal Assent – universal suffrage for all British men aged 21+ and limited suffrage for British women over 30. The changes recognised the effort and sacrifice British men and women had made for their country.
23 Feb 1918 Newly formed Soviet Red Army goes into action against the German Army for the first time.
25 Feb 1918 Rationing begins in London and the south of Britain for the first time. Sugar, meat, flour, butter, margarine and milk were all rationed. Families had to choose which butcher, baker and grocer they would use their ration cards in. Penalties were stiff for anyone found cheating the system.
3 Mar 1918 Treaty of Brest Litovsk signed between Bolshevik Government and central Powers ending Russia's participation in World War I.
21 March – 5 April 1918 First Battle of the Somme 1918 begins when Germans launch offensive to split French and British lines. British suffer heavy causalities and begin large-scale withdrawal. Fighting continues until 5 April.
23 March – 15 August 1918 Germany shells Paris using long range railway guns. Known as the Paris Gun, it shot a 106-kilogram shell to a range of 130 kilometres and is believed to the first man-made object to reach the stratosphere. Although not very accurate, the shelling terrorised the Parisians.
26 Mar 1918 General Foch becomes Chief of Allied armies in France
1 Apr 1918 Royal Air Force (RAF) is formed. (And is today the oldest independent air force in the world).
7 Apr 1918 Meat rationing introduced across Britain.
9 – 29 April 1918 Battle of Lys. Second German offensive against British line in Flanders where they capture considerable ground.
9 Apr 1918 WAACs renamed Queen Mary's Auxiliary Corps – recognition for their conduct during the German offensive during March.
10 Apr 1918 Third military Service Act passed extending eligibility to those aged 51 and to men living in Ireland.
17 Apr 1918 US 1st Division sent to join French Fifth Army.
19 May 1918 Largest and final aeroplane raid on London. Thirty three aircraft are involved, 49 people are killed and 177 injured. Germany planned further raids using newly developed incendiary bombs but the plans were dropped.
9 – 14 June 1918 Battle of Matz. Fourth German offensive on French lines at Verdun. The French are forewarned of this attack  by German prisoners. Nonetheless, the 9 mile German advance was impressive despite fierce French and American resistance. At Compiègne, a French counter-attack halts the German advance.
27 – 6 June 1918 Third Battle of Aisne. A third German offensive against French lines.
15 Jul 1918 Fourth Battle of Champagne – fifth German attack since March – continues for three days.
16 Jul 1918 Tsar Nicholas II and his family executed by the Bolsheviks. Russia had endured terrible losses and suffering throughout the war. Nicholas was warned of the effects of this on his people and yet ignored advice to initiate fundamental change.
18 July – 7 August 1918 Second Battle of Marne – General Foch launches first counter-attack in reply to five German offensives. The allies take the initiative and make strategic gains which mark the end of a string of German victories.
5 Aug 1918 Last German airship raid on Britain. Four Zeppelins bombed targets in the Midlands and the North of England.
8 – 11 August 1918 Battle of Amiens –Australian, British, Canadian and French mount a strike on the German army on the Somme. General Ludendorf calls it 'a black day for the German army' but fighting continues until 11 November.
12 Sep 1918 British attack on outer defences of the Hindenburg Line and American launch a successful attack against Germans during the Battle of St Mihiel south of Verdun.
26 September – 15 October 1918 Battle of Champagne and Argonne sees French and Americans troops make major push on German lines.
27 September – 9 October 1918 Battle of the Canal du Nord – successful assault by allied troops on the Hindenburg Line.
28 September – 10 October 1918 Battle of Flanders Ridge in Belgium – strong advance from Ypres push Germans back.
29 September – 2 October 1918 Battle of the St Quentin Canal – allied troops break through the Hindenburg Line.
30 Sep 1918 Bulgaria agrees an armistice with the Allies.
1 Oct 1918 Australian, British and Arab forces capture Damascus, Beirut, Homs and Aleppo.
3 Oct 1918 Prince Max von Baden new German Chancellor – seeks an armistice based on US President Woodrow Wilson's 14 points.
14 Oct 1918 Turkish Government seeks armistice.
16 Oct 1918 Austria-Hungary to become a Federated Nation.
17 Oct 1918 Battle of the Selle – allied offensive in France forcing back German troops.
26 Oct 1918 General Ludendorf resigns as German Quartermaster general.
27 Oct 1918 Austria-Hungary seek armistice with Italy.
30 Oct 1918 Turkey signs armistice with allies as Turkish troops surrender in Mesopotamia.
1 Nov 1918 Serbian troops recapture Belgrade. The period of war left The Kingdom of Serbia's population depleted by some 25% either as a result of, military action, epidemics, food shortages or Spanish Flu. 57% of the male population died and an estimated 500,000 children were orphaned.
3 Nov 1918 German sailors mutiny at Kiel.
4 Nov 1918 The spirit of rebellion spreads across the country and Bolshevik demonstrations begin in German cities.
9 Nov 1918 The German Kaiser, Wilhelm II, abdicates and the country declares itself a republic. He crosses the boarder into the Netherlands. Calls for Wilhelm's extradition after the war were resisted by the Dutch authorities and he remained in the Netherlands for the rest of his life.
11 Nov 1918 Germany signs armistice with Allies agreeing an immediate ceasefire and the withdrawal of its troops to its own borders. Fighting ends in France and Belgium at 11.00am – whilst Canadian troops in Belgium recapture Mons.
21 Nov 1918 Sections of the German High Seas Fleet officially surrender off Rosyth and 39 German submarines surrender at Harwich. Eventually 122 U-boats, along with various other German ships and support machinery stretched for two miles along the River Stour.
25 Nov 1918 Colonel Paul von Lettow-Vorbeck ends his long campaign in German East Africa and surrenders undefeated. He was the only German commander to invade British territory successfully during the First World War.
1 Dec 1918 Allied troops enter Germany.
14 Dec 1918 British Prime Minister David Lloyd George wins general elections at the head of the national government.
8 Jan 1918
Wilson presents '14 points' plan
6 Feb 1918
Representation of the People Act
23 Feb 1918
Soviet Red Army
25 Feb 1918
Rationing begins in London
3 Mar 1918
Treaty of Brest Litovsk signed
21 Mar-5 Apr 1918
First Battle of the Somme 1918
23 Mar-15 Aug 1918
Germany shells Paris
7 Apr 1918
Meat rationing introduced
9-29 Apr 1918
Battle of Lys
9 Apr 1918
Women Auxiliaries recognised
10 Apr 1918
Third military Service Act
17 Apr 1918
Us 1st Division
19 May 1918
Final aeroplane raid on London
9-14 Jun 1918
Battle of Matz
27-6 Jun 1918
Third Battle of Aisne
15 Jul 1918
Fourth Battle of Champagne
16 Jul 1918
Tsar Nicholas II executed
18 Jul-7 Aug 1918
Second Battle of Marne
5 Aug 1918
Last German airship raid
8-11 Aug 1918
Battle of Amiens
12 Sep 1918
Battle of St Mihiel
26 Sep-15 Oct 1918
Battle of Champagne
27 Sep-9 Oct 1918
Battle of the Canal du Nord
28 Sep-10 Oct 1918
Battle of Flanders Ridge
29 Sep-2 Oct 1918
Battle of the St Quentin Canal
30 Sep 1918
Bulgaria agrees an armistice
1 Oct 1918
Allied forces capture Damascus
3 Oct 1918
Germany seeks armistice
14 Oct 1918
Turkey seeks armistice
16 Oct 1918
Federated Nation
17 Oct 1918
Battle of the Selle
26 Oct 1918
General Ludendorf resigns
27 Oct 1918
Austria-Hungary seek armistice with Italy
30 Oct 1918
Turkey signs armistice
1 Nov 1918
Serbian troops recapture Belgrade
3 Nov 1918
German sailors mutiny at Kiel
4 Nov 1918
Rebellion spreads
9 Nov 1918
Kaiser, Wilhelm II, abdicates
11 Nov 1918
Germany signs armistice with Allies
21 Nov 1918
German High Seas Fleet
25 Nov 1918
Colonel Paul von Lettow-Vorbeck
1 Dec 1918
Allied troops enter Germany
14 Dec 1918
1918 General Election