This is Dundee's story of those that served in the First World War, and of the people left at home
1916
9th January 1916
The Gallipoli campaign is abandoned as the last troops leave; leaving historians today divided in their summary of the campaign's success or otherwise. Records differ but the campaign resulted in approximately half a million casualties, including men sick with typhoid, dysentery and diarrhoea. Gallipoli is commemorated on 25 April each year in New Zealand and Australia and is known as "Anzac Day".
---
24th January 1916
First Military Service Act passed by parliament – all single men between 18 and 41 eligible for conscription into the army.
---
10th February 1916
Conscription begins as Military Service Act comes into effect in Britain. Within a few months conscription is expanded to include married men and later the upper age limit for conscription is raised to 51.
---
21st February - 18th December 1916
The Battle of Verdun was fought on the Western Front between German and French armies. Lasting 303 days, the battle was one of the most costly in human history with an estimated 755,000 - 976,000 casualties. Much of the 100 sq.km battlefield is now forest but the picture (right) still bears the marks of shell impacts. Troops on both sides considered Verdun "Hell".
---
1st March 1916
Germany recommences submarine attacks against merchant and passenger vessels – continues through to April.
---
2nd March 1916
Although neutral Portugal has trade interests with Britain and so complies with the British request to confiscate German ships interned in Portuguese ports. Germany reacts by declaring war on Portugal.
---
29th April 1916
Siege of Kut ends – Anglo-Indian garrison surrender to Turkish forces after 143-days. Around 13,000 Allied soldiers survived to be made prisoners. 70% of the British and 50% of the Indian troops died of disease or at the hands of their Ottoman guards during captivity.
---
16th May 1916
Second Military Service Act passed extending conscription to married men between the ages of 18 and 41. Conscription was not made law in Ireland because of the 1916 Easter Rising, although in fact many Irishmen volunteered to fight.
---
21st May 1916
Daylight Saving (British Summer Time) introduced for first time to encourage longer working in farms and factories. Germany and Austria-Hungary had already introduced daylight saving as a means of saving coal.
---
31st May 1916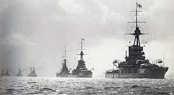 Battle of Jutland – British Grand Fleet confront German High Seas Fleet in North Sea off coast of Denmark. British fleet sustain greater losses than German fleet but German fleet driven back to port where they remain for the rest of the war.
---
5th June 1916
British Secretary of State for War, Field Marshall Lord Kitchener, drowned when en route to Russia when HMS Hampshire strikes mine and sinks off Orkney Isles.
---
7th June 1916
Fort Vaux at Verdun captured by Germans. The defence of Fort Vaux was marked by 5 days of heroism and endurance of the French garrison where most of the fighting took place inside the Fort. The surviving soldiers remained in captivity in Germany until the Armistice of November 11, 1918.
---
1st July - 18th November 1916
Battle of the Somme launched in Picardy as part of major Anglo-French offensive. The British Army suffers 57,470 casualties, including 19,240 killed. The battle continues until 18 November.
---
7th July 1916
David Lloyd George appointed Secretary of State for War replacing Lord Kitchener.
---
11th July 1916
Germans suspend their attack on Verdun (three miles from city) in order to move troops to the Somme. where the Anglo-French relief offensive began on 1 July. A German attempt to capture Fort Souville in early July, was repulsed by artillery and small-arms fire.
---
14th July 1916
The Somme – Battle of Bazentin ridge. A successful dawn attack sees the capture of villages Bazentine and Longueval by British forces. However the British failed to make the most of their victory and 2 months of bloody attrition commenced.
---
19th July 1916
Battle of Fromelles - French Flanders – Inexperienced  and outnumbered 2:1, Australian and British troops suffer heavy casualties.  The battle was responsible for one of the greatest losses of Australian lives in 24 hours.
---
21st August 1916
The Battle of the Somme
documentary released for screening in 34 cinemas with nation-wide release the following week. It showed actual footage of men fighting in the battle and is watched by over 20 million people across Britain.
---
27th August 1916
Romania enters the war on allied side with the aim to seize Transylvania from the Austro-Hungarian Empire. They are quickly defeated by Central Powers combined forces.
---
28th August 1916
Italy declares war on Germany.
---
3rd September 1916
First German airship shot down to the north of London. 16 German airships set out to bomb the capital but only 2 came close to their target. At around 2:15 am pilot Lt. William Leefe Robinson (right) shot down one of the airships near Cuffley. The pieces of the airship were salvaged by the Red Cross to raise money for wounded soldiers.
---
15th September 1916
The Somme - Battle of Flers - Courcelette. Allied advance supported by tanks for the first time. It also marked the debut of the Canadian and New Zealand Divisions on the Somme battlefield.
---
26th September 1916
The Somme – village of Thiepval captured by allies. Today Thiepval is the site of a memorial to 72,194 men died in the Somme battle sector before 20th March 1918 and have no known grave.
---
2nd November 1916
Verdun – Fort Vaux is recaptured without resistance by a French patrol who find the fort abandoned. In the preceding weeks the fort had been used as a command post by the Germans but life inside probably became unbearable with repeated attacks and heavy shelling by the French.
---
7th November 1916
Woodrow Wilson re-elected as President of the United States. Having kept America out of the war during his first term, Wilson's second term was dominated by American entry into World War I.
---
13th - 19th November 1916
The Somme – Battle of Ancre, where the final action on the Somme results in allied forces liberating Serbian town of Monastir and brings to an end 142 days of fighting.
---
7th December 1916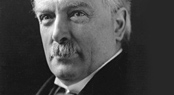 Herbert Asquith replaced as British prime minister by David Lloyd George (right) who takes over as leader of the wartime coalition. Regarded as a successful peacetime leader Asquith was generally criticised for his poor leadership during the war.
---
12th December 1916
German Chancellor, Theobald Bethmann-Hollweg, sends peace note to Allies to open talks in neutral country.
---
19th December 1916
The Battle of Verdun ends after 303 days of fighting and as many as 976,000 French and German casualties. A French lieutenant at Verdun wrote in his diary, "Humanity is mad. It must be mad to do what it is doing. What a massacre! What scenes of horror and carnage! I cannot find words to translate my impressions. Hell cannot be so terrible. Men are mad!"
---
21st December 1916
David Lloyd George rejects German peace note and the offer of talks on the grounds that Germany believes itself to be the more powerful and therefor in the stronger position to direct the conditions for peace.
---